Landworks Studio is a local, landscape architecture firm that was founded in 2000. In previous years, they had operated with a tight group of employees, but recently, started to grow and had brought on new talent. Many of these new hires were helping with business development, and they wanted to ensure they were presenting a consistent message across the board. They knew they had to start by defining what they were about.
When we began working together, there were a number of clear goals for the project. Landworks Studio wanted to:
Develop a clear understanding of how the firm is perceived and its differentiators.
Build sales opportunities in new areas.
Create compelling messaging aligned with where they were headed.
Develop engaging and scalable creative themes to tie together marketing pieces and further brand the firm.
To ensure they were choosing a lasting mission and vision, they decided to conduct the project in two phases. The first was dedicated to research, and the second was focused on establishing a creative theme.
In the first phase, we started by conducting an internal survey and leading a workshop to identify key target audiences, internal perceptions and long-term goals. From these findings, we worked with Landworks to develop a customer survey. The data collected here was analyzed alongside industry trends. The findings from all three endeavors were used to craft vision and mission statements, along with an elevator speech.
From this, we learned they were passionate about creating people-focused design. Their collaborative approach uses input from all stakeholders, but it was their commitment to infusing each project with thoughtful details and creating beautiful presentations that set them apart.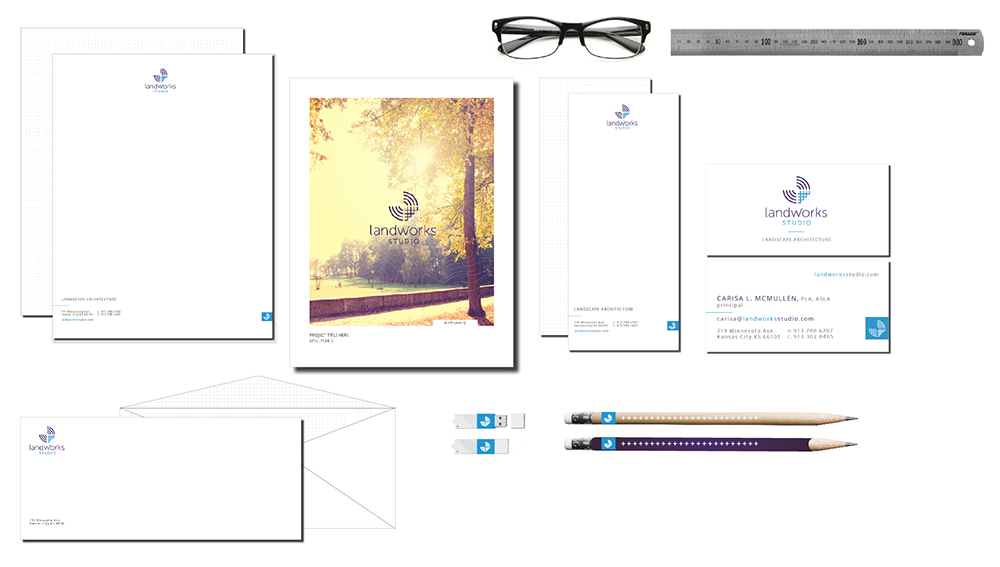 To translate this idea into a design, we teamed with Floc 5. Landworks Studio wanted to refresh existing brand materials, so we made small modifications to the logo and introduced new:
Letterhead
Business cards
Notecards
Envelopes
Proposal templates
Presentation templates
Infographics
Service icons
We also reworked copy about the firm and reorganized the proposal project sheets to better reflect their defined mission and vision. This new messaging was integrated into a launch plan for the refocused brand.