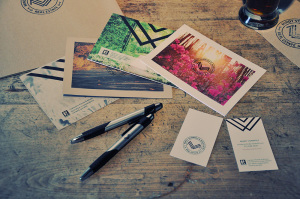 Over the last decade, Mindy VonWolf, a realtor and the owner of MVW & Associates, had worked to build a strong customer base and referral network. Although she had developed a solid business, she wanted to grow her firm and generate sales from new sources. She had recently moved from RE/MAX to Keller Williams and was ready to make a change.
After meeting with her, we determined that building a recognizable brand was the first step. We reviewed the existing assets and identified which elements were critical. Together, we then determined the firm needed:
A new logo
Business cards, thank you notes, letterhead and folders
An updated website design with more robust content
Promotional items
Yard signs
Through our partnership with a graphic design firm, we were able to deliver a new, timeless logo. The designer explored the idea of a monogram to aid in name recognition, which is particularly important in this industry. The final mark is a play on the initials MVW. It is as readable on a yard sign as it is on a mobile phone.
To add some color and flexibility, we selected four photographs to incorporate in the branded elements. Each one depicts a specific season. We looked for pictures that evoked emotion, but weren't tied to a specific place. These images were then used on a set of notecards, social media and MVW's website.
We were also able to update their site using the existing Keller Williams platform. This saved MVW money, allowed them to maintain the functionality to which they were accustomed and maintain corporate support of their website. To brand the site using the available templates, we added a seasonal image, updated the color scheme and introduced the new logo. We also reworked the copy and restructured site. New pages, like Concierge and Blog, were added to position MVW as a resource to current and prospective clients.
In addition to the rebrand, we also created a customized social media plan for the firm, which allows MVW to manage their own presence strategically. The new brand elements were incorporated across each social media profile to create consistency, and because Zillow is an important, strategic partner, we rebranded their profile there as well.